NEW YORK (MarketWatch) — The dollar rose against the euro Monday as disappointing German inflation data were the latest to signal the European Central Bank could be forced to ease monetary policy this week to fight low inflation.
The euro EURUSD +0.05%  fell to $1.3598 from $1.3635 late Friday. German inflation for May missed expectations, with the EU-harmonized annual reading falling to 0.6% from 1.1% in April. The soft inflation reading in the euro zone's largest economy increased chances that overall inflation data, due Tuesday, could also be a disappointment. Separately, data showed the region's manufacturing growth slowed by more in Maythan initially estimated.
"Once you start seeing the effects in Germany, it becomes an easier decision," said Andrew Dilz, a currency trader at Tempus, Inc., referring to German inflation data.
"But in the back of our minds, and the reason we haven't blown through $1.36 yet, is that outside risk [the ECB] won't actually do anything," he said.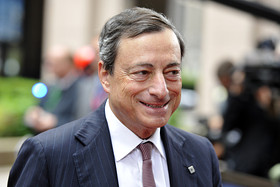 The euro has fallen since ECB President Mario Draghi hinted that easing could come in June.
The ECB will issue a decision on Thursday, followed by a press conference by ECB President Mario Draghi. Market participants are widely expecting the central bank to cut rates, with some forecasting negative deposit rates. At the same time, the Federal Reserve is on track to finish its stimulative bond-buying program by year end, setting up for eventual rate hikes. Higher U.S. rates should make dollar-denominated assets more attractive to investors. Read: ECB expected to slash rates, hold back on QE bazooka
"Bond and FX investors are desperate to see the 'higher USD/higher US rates' trade come to fruition. As this week gets going, our sense is that they'd like to take a looser ECB and neutral-to-better US data as a new 'trigger point' for that divergence," said Stephen Gallo, European head of foreign-exchange strategy at BMO Capital Markets, in a note.
The ICE dollar index DXY -0.03% , which pits the greenback against six other currencies, rose to 80.634 from 80.379 late Friday. The index is heavily weighted toward the euro. The WSJ Dollar Index XX:BUXX -0.03% , which measures the dollar against a wider basket of rivals, rose to 73.45 from 73.17.
U.S. manufacturers expanded at the fastest rate this year in May, with the Institute for Supply Management's manufacturing index rising to 55.4% from 54.9% in April. The ISM corrected a previous number that was skewed lower by seasonal-adjustment errors. Data released Monday also showed construction spending in April rose 0.2% to a seasonally adjusted rate of $953.5 billion, missing forecasts of a 0.8% increase.
Elsewhere, China's manufacturing sector expanded by more than expected in May, with China's official manufacturing Purchasing Managers Index rising to 50.8 from 50.4 in April. Read: The 3 most important charts of the global manufacturing PMI data
The British pound GBPUSD +0.01% inched down to $1.6747 from $1.6762 late Friday. The Bank of England is scheduled to issue a decision on Thursday, with most economists expecting no change in policy.
The Australian dollar AUDUSD +0.05%  dropped to 92.46 U.S. cents from 93.11 U.S. cents late Friday. Australian data released Monday showed the number of approved home-building permits dropped 5.6% in April from March. The Reserve Bank of Australia is scheduled to issue its monetary-policy decision on Tuesday, local time.
The dollar USDJPY +0.00%  rose to 102.38 yen from ¥101.77.